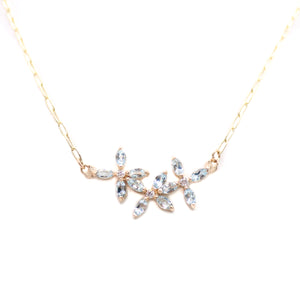 Aquamarine Triple Forget-Me-Not Necklace
The Triple Forget-Me-Not necklace is 14k yellow gold and includes three small center diamonds, as well as 12 marquise petal stones in aquamarine. Comes in 16 or 18-inch yellow gold chain.
This is a larger version of the Forget-Me-Not necklace with 3 flowers. I wanted to design a slightly fuller necklace with some extra pop of color. This is a dazzling piece for flower lovers of any age. This necklace is made to order. It takes 2-3 weeks to fulfill.